Our History
1968
Regional Organ Procurement Agency (ROPA) is established with headquarters at UCLA Medical Center.

1977

Drs. Robert and Rafael Mendez incorporate OneLegacy under the name Southern California Organ Procurement and Preservation Center, Inc. (SCOPPC) to recover kidneys at hospitals not served by ROPA and to provide perfusion services to St. Vincent Medical Center's kidney transplant program.

1983

SCOPPC and all organ procurement organizations (OPOs) in the U.S. apply for a designated service area to be granted by the Health Care and Financing Administration (HCFA, now Centers for Medicare and Medicaid Services [CMS]). HCFA designates Kern, Inyo, San Bernardino, Riverside and Tulare counties to SCOPPC. Although OPOs are assigned specific service areas, hospitals throughout the United States were allowed to contract with the OPO of their choice. This practice allows for Los Angeles County hospitals to continue working with SCOPPC and some Inland Empire Hospitals to remain with ROPA.

1991

SCOPPC changes its name to the Southern California Organ Procurement Center (SCOPC) to reflect the organization's focus on the procurement of organs for transplantation.

1990s

In the face of increasing public pressure, HCFA requires OPOs to meet minimum standards to retain their federal designation to serve their respective communities.

1996

HCFA requires that an OPO meet or exceed the 75th percentile in three of five performance standards. Both SCOPC and ROPA are challenged to meet the HCFA standards. In 1996, HCFA shifts Orange, San Bernardino and Riverside counties to SCOPC, with the exception of Kaiser Permanente hospitals.

1999

ROPA is decertified and HCFA awards San Bernardino and Ventura counties and the remaining areas of Los Angeles County to SCOPC. Many of ROPA's employees join SCOPC.

2001

SCOPC changes its name to OneLegacy to better communicate the value that donation brings to donors, families and recipients.

OneLegacy develops first Electronic Donor Record and web-based Organ Offer System, which was ultimately made a U.S. requirement in 2006.

2003

OneLegacy begins to provide tissue recovery services as a licensed tissue bank in Kern, Riverside and San Bernardino counties.

2004

2005

2006

OneLegacy inaugurates the Donate Life Rose Parade Float to celebrate the gift of life with more than 50 million people across the country and around the world each year on New Year's Day.

OneLegacy is the first OPO in the world to routinely perform Nucleic Acid Testingof all donors, enabling more and safer, life-saving transplants, eventually becoming a U.S. standard in 2015.

OneLegacy becomes the sole tissue recovery agency for the seven-county donation service area.

OneLegacy collaborates with California and other OPO's to create the Donate Life California Donor Registry which (as of March 2016) has nearly 13,000,000 registrants.

2010

2011

OneLegacy and Donate Life California, in collaboration with Steve Jobs and Governor Schwarzenegger, create the world's first Living Donor Electronic Referral System to enable self-referral and altruistic donation, as well as the life-saving kidney chains.

OneLegacy founds OneLegacy Foundation to support research, public education and patients and families

OneLegacy serves 215 hospitals, 11 transplant centers, coroners, funeral homes and approximately 19 million people in Los Angeles, Kern, Orange, Riverside, San Bernardino, Santa Barbara and Ventura counties.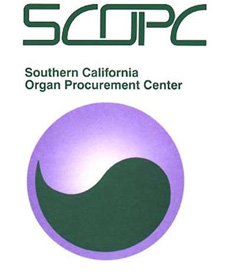 The SCOPC logo was retired in 2001 as the organization
was rechristened "OneLegacy."