Coroners
The seven Sheriff-Coroner departments in OneLegacy's service area play an essential role in meeting the need for donated tissue and corneas. Each year tens of thousands of lives are saved and healed thanks to families whose deceased loved ones are in the care of county coroners.
Contact: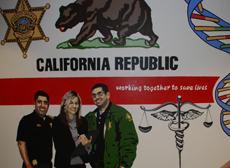 The 25' x 9' mural at the Orange County Coroner's Office,
"Working Together to Save Lives," celebrates their
life-saving partnership with OneLegacy.